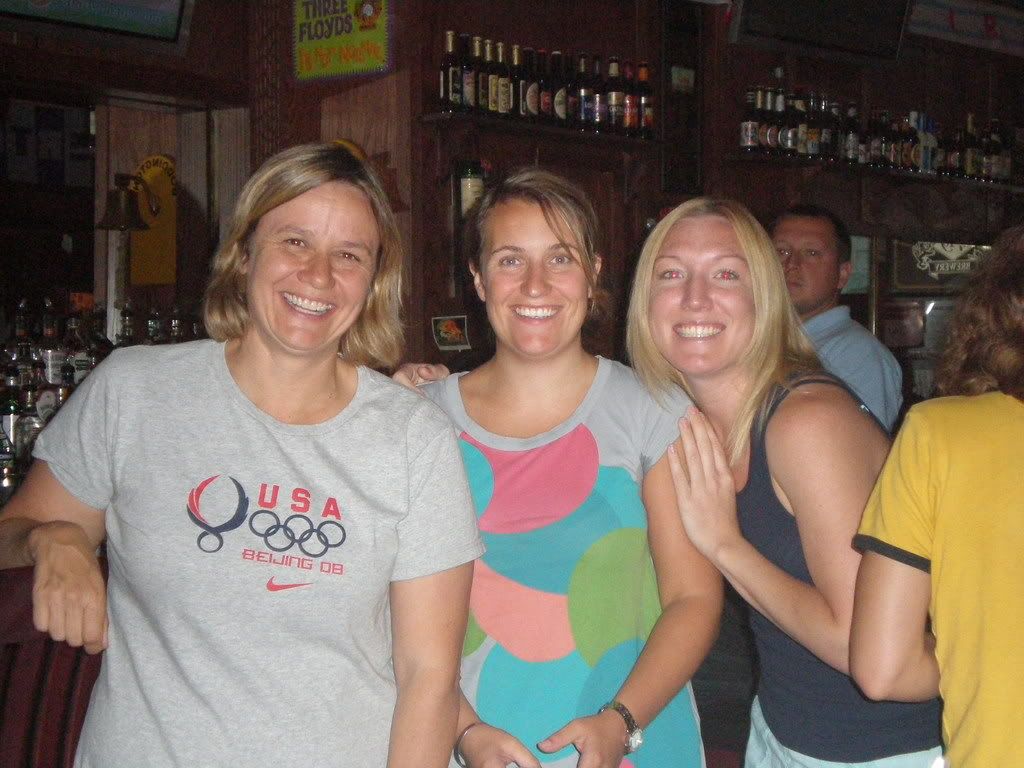 Marcia McDermott, Emma Hayes, and myself at the USWNT Gold Medal viewing party at the Globe Pub.
In the spring of this year, before I was hired by the Chicago Red Stars as the Director of Online Marketing, I quoted a post by Audrey Carr called, "What Goes into Building a Social Media Strategy." I've referenced this article consistently throughout my first few months with the Chicago Red Stars, and today, with the rainy weather and slow news day, I'm feeling quite reflective. So I'd like to take a moment to think about how both WPS & the Chicago Red Stars are addressing these important topics.
Audrey Carr's second link has become much the foundation for many of our initiatives, so I would be remiss not to start out with a link directly to it: Wanna see a great example of an integrated digital campaign?
Carr says that first, it's important to establish your goals. WPS' goal, first and foremost, is to be the premier women's soccer league in the world, and the global standard by which women's professional sports are measured. No matter what our online initiatives entail we must always remember that this is what we are striving toward.
WPS and Chicago Red Stars are carefully defining how we plan to engage community participants. For me, getting the information to our community is the first key to encouraging conversation.
Let's have a look at pushing WPS/CRS news. Our homepage is our centralized resource for all Chicago Red Stars news and events. Statistics show us (hooray for Google analytics) that the highest percentage of people don't come directly to our URL every day. Instead, they find us via organic search and referrals. This says to me, in a league with minimal marketing budgets, we should be placing a high importance on search engine optimization (SEO), especially strong link-building strategies and quality content. If you didn't know already, WPS has engaged a new web development company. I've been pushing the importance of site structure, title tags, keywords, indexing, proper HTML and CSS coding and specific/organized content categorization. If we get this right with the new WPS website (the roll-out is expected in phases over the next 4-6 months), our news will be findable via free search and we won't have to dip into our owners' pocketbooks for any sort of paid search marketing (the Google ad word machine).
Another strategy that we've implemented is an email campaign, using a company called I-post. We get this software for next to nothing, so we've made the choice to muddle through some coding difficulties (although mad props to Alyse LaHue who has spent countless evenings at the office trying to insert an image alt tag because I said it's important), in order to keep costs down. Our email list has grown to include over 4k subscribers mostly through the "clipboard method" (I'm sure you can guess what kind of grassroots marketing this entails… yes, a very scientific approach). But when you're looking to sell 3k season tickets (and a game-time ticket goal of 3k more than that, at the very least), an email list of 4k simply won't do. We're also looking to create a much more consistent email program so our fans know exactly when pertinent information is going to be in the inbox.
But with this in mind, my awesome intern Elly Deutch has been doing a lot of research regarding how people of different age categories actually get their information, as we want to make sure we're (a) the most modern organization and (b) that we're able to reach everybody who's interested in Red Stars news. Among many other things, Elly has found that young people are becoming less reliant on email campaigns to get information (that makes total sense – I hate email marketing in my inbox! Please remove me from the list should be permanently pasted to my clipboard), and are paying more attention to social media outlets like Facebook, MySpace, Twitter and YouTube. As one would expect then, a huge percentage of our referral traffic to the main URL comes from these outlets. Here are three very interesting charts Elly put together (click to see larger):

Armed with this information, we recognize that a comprehensive email marketing campaign is vital for certain demographics – but not everybody. We'll need to make sure our online footprint is engaging all fans.
In the infamous words of somebody sometime somewhere (anybody know the original source?), but echoed last week by our Marketing Director Jim Houghton, "Content is king." Devoted bloggers like wps.theoffside.com, pitchinvasion.net, and Chicago Tribune's The Red Card offer consistent coverage of people's items of interest, whereas traditional media coverage is spotty at best (especially regarding women's soccer). So if Melissa in Oakland, or Tom in Chicago, are accumulating all the news coverage (hooray for Google Alerts), then why wouldn't our fans use their blogs as informed, and informing, resources?
Further, at the Chicago Red Stars, we had a staff training session where I explained the importance of blogging and social media to everybody. From the benefits of blogging and link-building to the importance of interacting in social media circles (operative word = interacting) everybody on staff has (some quicker than others, lol) found a voice online. GM Marcia McDermott and Head Coach Emma Hayes have even bought in! Greg Zaskowski's been able to spread the message about ticket sales, Pat McNamara about sponsorships and Amber Simons community outreach. And I'm of course thankful to be working with Peter Wilt, a true blogging & social media hero (bigsoccer.com anybody?). If you're interested, here are a couple sites I've recommended to my staff:
– Common Craft in Plain English: http://www.youtube.com/user/leelefever
– Whiteboard Friday: http://www.youtube.com/user/greatsc0tt
– Grassroots Marketing: http://www.inc.com/guides/marketing/24074.html
– Viral Marketing: http://www.wilsonweb.com/wmt5/viral-principles.htm
– Link Building: http://www.seobook.com/archives/001792.shtml
Back to Audrey Carr's blog. Now that we're getting information about the Chicago Red Stars out there, let's think about the type of content we want community members to create, and the conversations we want to foster. First, we want to encourage conversation centered on women's soccer – in America and beyond. As a member of the soccer community for many years, I've generally found my American soccer gossip/news/conversations at bigsoccer.com. International women's soccer news comes from footballforum.co.uk and a Swedish newsblog. There are many other outlets for soccer information, but there is a great amount of equity with these brands in the community at this point.
Here's a select list from my bloglines newsfeed list if you're interested:
– NY Times: http://goal.blogs.nytimes.com/
– Footsmoke: http://www.footsmoke.com/
– Deadspin: http://deadspin.com/tag/david-hirshey-is-the-closer/
– From a Left Wing: http://fromaleftwing.blogspot.com/
– Fair Game: http://www.fairgamemag.com/eng/fair_game_blog
– Jordan Cornblog: http://www.jordancornblog.com/
– ESPN: http://soccernet.espn.go.com/origin?cameFrom=columns/archive%3Fcolumnist%3D77%26root%3Dus
– Yahoo Sports: http://sports.yahoo.com/sow/blog/sow_experts
– MLS Confidential: http://www.socceramerica.com/blogs/mls_confidential/
– Damallsvenskan Newsblog: http://dandal.webblogg.se/
– The Red Card: http://blogs.chicagosports.chicagotribune.com/soccer_redcard/
– Women's Football UK: http://womensfootball.eu/blog/
– The Offside: http://wps.theoffside.com/
– Pitch Invasion: http://pitchinvasion.net/
– The Red Card: http://blogs.chicagosports.chicagotribune.com/soccer_redcard/
I also check a list of different sites and some additional blogs, including of course the feeds from everybody in my office …and a few select Twitter users… but I'll save that list for another time ;-) Emma has told me to "get out more often" which I think is funny.
Anyway, I think it's difficult to navigate to the Women's Soccer News on Big Soccer, and I find most bloggers in this community aren't writing about the women's game. It's been an incredible forward leap that Karyn Lush over at the WPS League office invested (a great deal of time & a very minimal amount of money) in a company called Ning, in an effort to develop a social network centered specifically around women's soccer. In today's online world, we're seeing the growth of specialized social networks that delve into specific communities – hobby , fashion, diet, dating, music, lifestyle and cooking sites to name a few. So this fans.womensprosoccer.com site is well-timed.
It has been interesting to watch the forums here develop. We are working to structure our community around both user-generated content, and facilitated discussions which mine for consumer insights. Originally, the WPS intern was mainly responsible for creating content and generating user discussions on the message boards (we miss you Elaine now that your internship is over!). But now the discourse is starting to take on a life of its own, and users are beginning to subscribe, and the league and teams all seem to recognize that successful communities grow and change over time. Flexibility is good, but as Audrey Carr suggests, it's important that we carefully communicate any changes to our stakeholders before we implement them.
The community has grown to 1,200+ users in 2 months. And as the teams start to materialize, I certainly anticipate it will continue to evolve. One concern I have is that as WPS moves to a new web platform, that this Ning site will be eliminated and we migrate to another platform, and end up losing both content and a portion of our first 1,200 members, probably our most loyal and dedicated fans (ok, well at least the first to buy into the WPS social platform). Karyn Lush, WPS' internate guru (and owner of ooosasoccer.com btw), has assured me that if we did decide migrate to a new social platform, it would be following a full vetting process and will be done with the highest regard for our users. Good to hear, Karyn.
One thing we've incorporated onto our Fan Page is a Meebo chatroom. Truthfully, the growth has been slow here (probably because we haven't had the man-power to consistently engage users), but my intention is to create a place where Chicago Red Stars fans can connect with one another, including the staff and the players. I also have ambitions of running a chatroom alongside a live streaming game… Similar to what Showtime has done for their new show, Dexter. Obviously, we'd replace the interview with our own soccer match… more to follow as this develops.
Audrey Carr explains how important it is to define (and find) our audience. Although general audience targeting is still helpful, it needs to be augmented with a bottom-up approach. We've been identifying similar topical brand communities online – US Soccer, MLS, Illinois Women's Soccer League (IWSL) are all good examples. We are learning what their audiences read about online, and who links to these pages. What attracts soccer visitors to these websites, and then, what content engages them?
We've just been allocated our first US Women's National Team players (Carli Lloyd, Lindsay Tarpley and Kate Markgraf), so right now we're also focusing on these groups of influentials – fan communities of our allocated athletes and local athletic associations within their hometowns, soccer themed online communities, especially those for high school and college students, and finally, mainstream sports related blogs and news sites. Carr suggests that by launching the campaign with the backing of our most enthusiastic supporters, we can ensure quality content submissions and enthusiastic discussions from the start. Makes sense.
Another area we've dipped into is social bookmarking. Everybody in the Red Stars office has been trained in Delicious, and I've been encouraging them to submit women's soccer (Chicago Red Stars-related especially) articles whenever they can. The more savvy users are now Diggers, Stumblers, BallHypers and Tweeters (or as Marcia might say, "twits" lol). Of course, we don't try to spam our way into prominence in these communities, as I believe organic growth is surely the best strategy here. But with 11 of my staff submitting articles to social bookmarking sites from unique IP addresses (at work and at home), I believe we'll eventually grow a presence in these communities as well – and hopefully touch a new and evolving demographic.
Yelp is an incredible online community that I've taken an interest in because of their ability to mobilize users to attend events. Essentially, we'd like to be able to mobilize our online community members to attend a soccer game (or better yet, buy a season ticket!). I met with Colleen from Yelp Chicago about a month ago to talk about a potential partnership and strategies she suggests for growth at chicagoredstars.com, esp. turning online visitors into ticket sales. We talked about a potential Yelpers' night at Toyota Park, and of course an email sponsorship, in exchange for some signage at our pitch. But what struck me the most during the conversation was how strongly she encouraged transparency. Colleen said Yelpers are smart, and if they feel like a business has come into their community for the mere sake of promoting itself, then Yelpers will see right through this and it will actually create a negative impact on the business. So both myself and my interns have become avid Yelpers and are posting ratings/reviews of restaurants… and are planning to attend some Yelp events… before we even begin to consider marketing CRS in this community. A good example of a sports team here in Chicago that has integrated Yelp successfully is our friends, the Windy City Rollers.
But just like the Yelp community, most online social network users (Facebook, MySpace, YouTube, etc.) are savvy. Marketing to them is as much an art as it is a science, where transparency and interaction are vital.
Which brings me to Audrey Carr's next point, create value, not noise. She continues: "People use social platforms for communicating and fostering social connections, not to listen to advertising. A 2007 study conducted by MySpace and Marketing Evolution reported that 70% of marketing value from social networking sites is derived from the "momentum effect" created when consumers co-create and pass-along branded campaign elements (applications, badges, etc.), rather than the reach and frequency of messaging."
I've been dancing around this point throughout this post, but here is in plain English: It's not enough to put up a MySpace page and hope people come to it. Social media is about engaging your users, making them feel like they're part of the process. When Marcia McDermott and Peter Wilt hired me, it was literally written into my job description: "Create an emotional connection with the fans." I believe this can only be done if the people who choose to use their online voice are heard and answered.
Carr continues to explain, "One of the hardest aspects of starting an online campaign/community is attracting new members and motivating them to participate in an ongoing basis." To this end, we're working to form relationships with the key influencers in related online communities and developing a personalized messaging strategy for informing them about our team. We've invited early joiners to be part of our expert's panel (and we host town hall meetings all the time), and we regularly solicit their input to shape future campaign endeavors.
Jim Houghton, our Communications Director, and I have created a comprehensive communications plan that speaks to our regular contributors. With that, I make sure our non-traditional media outlets (ie. Bloggers and Facebookers) are included in our press releases as well as traditional media outlets, and when there's something that needs deeper investigation, I send these guys and gals text messages. We'll soon start sending "insider" messages to power-users in the WPS social network as well. And we're consistently on the lookout for content, features, and downloads will keep members coming back, and we seek to solicit the feedback of the Chicagoland soccer community when creating new content via all the channels I've mentioned.
Finally, with so many moving parts, Carr suggests that it's easy to forget to consider the overall campaign experience from the users' perspective, especially for integrated campaigns spanning across multiple online properties. This is where I believe Carr really drives everything home – By ensuring that chicagoredstars.com is the one centralized location for aggregating all top-rated community content, and ensure all social media properties contain links out and back to our central destination, we're always driving traffic to one particular place.
With all these moving parts, I often go back to point #1 (I think I wrote that about 3 days ago haha) – Establish your goals. WPS' goal, first and foremost, is to be the premier women's soccer league in the world, and the global standard by which women's professional sports are measured. No matter what our online initiatives entail we must always remember that this is what we are striving toward. And in the end, engaging users, we anticipate, will equate to ticket sales.