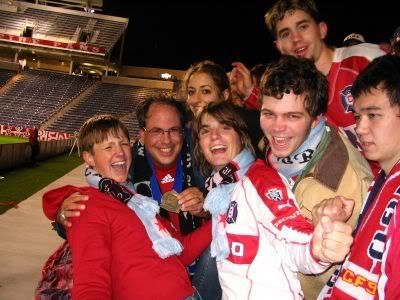 Photo courtesy of Peter's blog.
Peter Wilt was the first President and General Manager of the Chicago Fire in Major League Soccer, and has gained a noteworthy reputation for being a fan-friendly soccer businessman. He's known for answering questions from fans through the BigSoccer Internet message boards, and he now maintains his own blog on Chicago soccer issues. In 2005, Peter left the Fire and became the CEO of Milwaukee Professional Soccer (a group bidding to bring an MLS franchise to Milwaukee). He has since left the position to lead Chicago's Women's Pro Soccer franchise that will begin in 2009.
When the Chicago Fire played the San Jose Earthquakes last Saturday, Peter invited my friends and me down into the rowdy supporter's section (see my previous post). Afterward, he was kind enough to answer a couple questions for "Soccer Science" via email. The interview is posted below.
Amanda: You started as Chicago MLS' first employee on July 1, 1997, and started as Chicago WPS' first employee on August 1, 2007. In what ways have you seen the American soccer landscape change over those 10 years? How does this impact today's executive-level decisions?
Peter: In 1997, it was very new to me. I visited every MLS team and learned what worked and what didn't. Most of the stuff I learned that worked, I learned from DC United. Most of the stuff I learned that didn't work, I learned from everyone else!
Essentially, it's about hiring talented, hard working people, with good character and a passion for soccer. Then you need to begin making emotional connections with people who are already connected to the sport. Respecting the game, respecting the people you are counting on to succeed and helping them achieve their goals, whether it's a fan, sponsor, media member, youth soccer administrator or anyone else with an interest in supporting the team.
Amanda: When you started at Chicago MLS, you had 9 months to prepare for the League's launch, and when you started Chicago WPS, you had 19 months before the team's first match. How do you predict that this extra time is going to benefit WPS?
Peter: The additional time allows us to engage more people on a grass roots basis. We'll need to do that in order to be successful, because we won't have the million dollar advertising and promotion budget the 1997/98 Chicago Fire had.
Amanda: I see you've maintained a blog since November 2007. What is the goal of your blog and how do you plan to achieve that?
Peter: Soccer in general, and women's soccer in particular, still doesn't generate the amount of traditional media coverage that allows other major league teams to inform their fan base so easily. We will need to be proactive to keep our fans informed and engaged. That is the motivation behind my blog. I believe the transparency of our organization through my posts gives our fans, and potential fans, a clear window into our team, clarifies misunderstandings, explains important (and not so important) decisions. This helps connect fans emotionally and helps them care more about the team.
Amanda: Your staff has done an incredible job building support online for a team that doesn't even exist yet. What role do you see the internet having in the future of your team?
Peter: We view Chicago WPS as the community's team much like Wisconsin residents view the Green Bay Packers as their team. The internet is the virtual tether that connects our community together and will be our primary source of marketing the team and connecting with fans.
We expect our website will be an important source of information for our fans and partners. We hope to create an online community with all of our stake holders including fans, players, coaches, staff and partners. We also plan to provide more interactivity with our players, coaches and staff and online outreach than most professional sports teams do. This will be accomplished through blogs, personal video cams, text messages, social networking, viral marketing, widgets and all those other techie things people smarter than me will be implementing.
Amanda: Is there anything you'd like to say about WPS, the people, the teams, or the League in general?
Peter: Sometimes you need to take one step backwards in order to take two steps forward and I think that was the case with professional women's soccer in this country. The new business model, the commitment to on-line marketing, the caliber of leadership throughout the League, the many partnerships with youth soccer and the synergies with Major League Soccer, its teams and stadia make sustainability a realistic goal for the sport this time around.